Format:

PC
Developer:

2K/Irrational
Publisher: 2K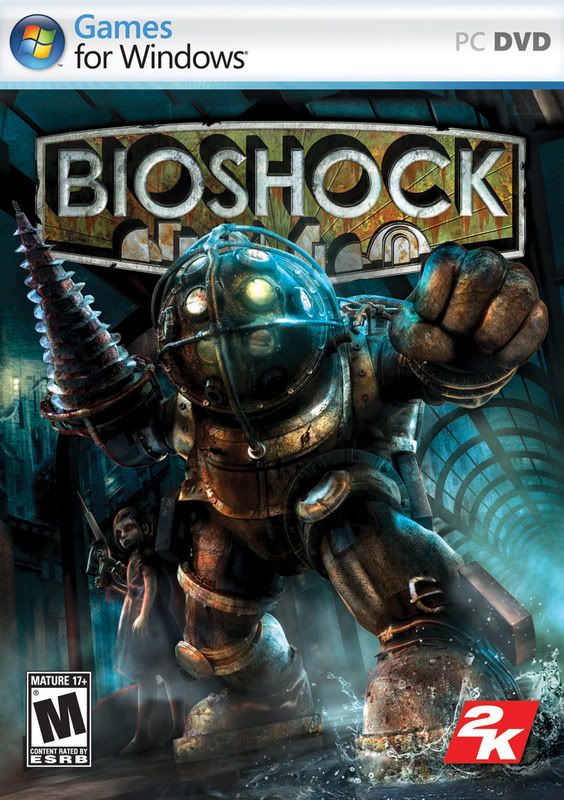 I'm awash with disappointment
. Bioshock
is not the exceptional game that I'd been told (and sincerely hoped) it would be. High production values and a no-doubt talented development team have combined to found an exhibit of the most paradoxically ocean-deep yet
Serious Sam
-shallow soggy mush of storytelling and saline gaming. I summon
Sam
because
Bioshock
all too often betrays its simple-shooter essence. The truth is, despite its sprawling cityscape, voice-recorded backstory, and literary-inspiration,
Bioshock
herds the player along a pre-defined path in a manner akin to a headless kamikaze. Once the basic rules have been defined (hack the cameras, electrify the water, exploit the Daddies),
Bioshock
is a tiresome and repetitive trawl, although it is trawl through some eye-searing and ear-arousing locales.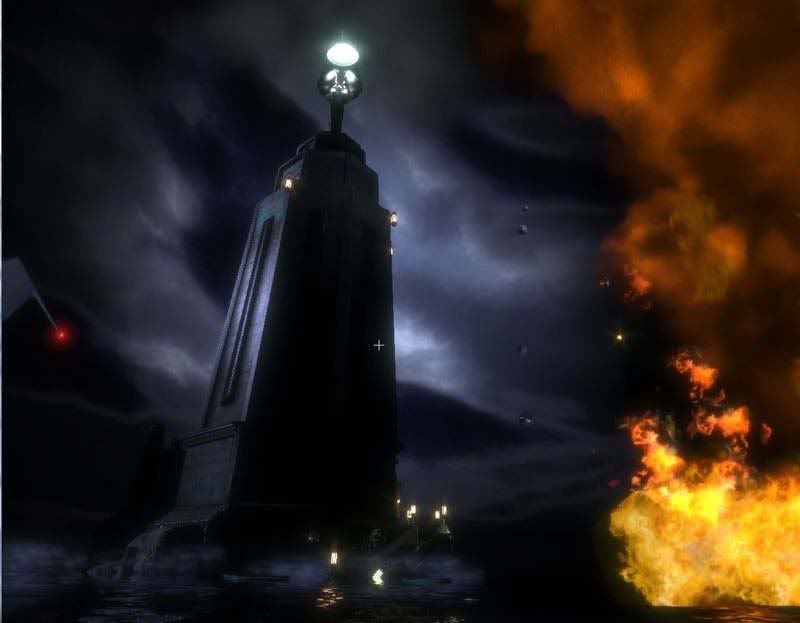 Ken Levine -
Bioshock
's project director -once worked as a screenwriter for Paramount Pictures. I find Mr. Levine fascinating because he opines that a player must retain freedom of control throughout the telling of a game's story, yet I think that
Bioshock
has failed to bring this premise to fruition. Rapture is introduced through a torrent of set-pieces that revolve like a whirlpool around the player. I think that the first fifteen minutes of
Bioshock
may be one of choreographed-gaming's greatest achievements. Then, like a hurricane,
Bioshock
's energy dissipates upon dry land, and tiresome convention sets in.
Bioshock
's story is largely told through the discovery of superbly voice-acted tape recordings that are scattered like jetsam throughout the city. The recordings serve to permeate ripples from Rapture's past, describing one man's impractical ideology and the dystopian implications of remaining doubtless when reality's tide erodes a ruler's fantasy. One could argue that this system gifts the player with a freedom to continue their game whilst revelling in Rapture's past, yet I felt that the recordings necessitated my standing still in order to avoid triggering combat, or any other such noisy distraction, until the playback ceased. There are a few pipette-drops of genius dispersed within this inverted fish-tank of disembodied storytelling - Brechtian acknowledgments of gaming's similarity with theatre - but they remain sadly infrequent tips to an iceberg that remains largely submerged below the high tide defined by
Deus Ex
.
Almost every room in Rapture contains a few bad guys and represents an equipment-expending battle. I'm the kind of person who likes to thoroughly explore the games I play, so I felt unduly punished when I found that areas I'd previously cleared of enemies had become re-populated with another happy-go-lucky set of spritely psychopaths. An internal conflict emerged: should I continue to explore this level and risk the loss of my best ammunition or should I continue to the next in the hope that I'll get to appreciate the city's intricacies without suffering through the wasteful chore of combat? There was a solution: play the game like an online shooter and treat the ability to re-spawn upon death as advantageous excuse to skimp on using med-kits. By half way through
Bioshock
, I'd even grown accustomed to teasing the baddies with telekenetically-thrown scraps of rubbish to the face so that I could be fatally flung as a shortcut to the nearest re-spawn point. When I'd completed the game, I felt as though I'd failed to fully understand
Bioshock
, yet I'd loathe to live another few hours playing it.
The bloody ballet of
Bioshock
's combat is renditioned through use of plasmids (think Jedi force powers) and conventional weaponry. Together they fuse to become complimentary methods of mass maiming. An early example of the plasmid and weapon's symbiosis comes in the form of Atlas' 'one-two punch': the sadist's catatonic coupling of the lighting plasmid's stunning shock and the wrench for good old fashioned bludgeoning. I fumbled around in the settings to find the button I should press to lean - to no avail - there isn't one! Merely entering a room is usually enough to alert all of its inhabitants to your presence, signaling the development team's departure from common sense and a welcome to Rapture. Later in the game, two separate tonics (subtle plasmids) negate this problem, imbuing the player with silent footsteps and Predator-style camouflage. Oddly, the player's enemies seem to have their own set of poor-man's plasmids (and, in some cases, no special powers at all) even though their character as 'splicers' hinges on their overuse of super-human augmentation.
If the player wants to save themselves a bit of dosh (and blood), they'll have to learn to plumb. That's because a vital component of
Bioshock
comes in the form of tubes, which need to be neatly arranged to form a channel so that liquid may flow from one point to another. You see, the organisation of pipes acts as a 'fun' metaphor that represents the hacking of equipment such as turrets and vending machines. I'd previously had a wholly unrealistic and romanticised opinion about the excitement of hacking, but after playing
Bioshock
I realise that the life of a hacker is simple and brimming with mild stimulations. Hackers are no risk to the US government because their role can be simply outlined using the 'series of tubes' language that senators are able to understand.
Without spoiling anything, I can say that I'd expect to be granted a degree of freedom after a major event that takes place during
Bioshock
. Perhaps the player's avatar has a chain tattooed on his wrists for a reason: to signify total adherence to each order he will be given during the game.
Bioshock
's publishers framed their game as an intellectual stimulation, so it's sadly ironic that the only choices to face the player regard violence and occasionally the choice to refrain from killing someone.
Perhaps I've been too harsh on
Bioshock
. Perhaps it deserves the uproar that it has provoked through its commercial and critical success. I remain firmly unimpressed. I expected so much more. If you've yet to play
Bioshock
then I recommend you think twice before you make a purchase.