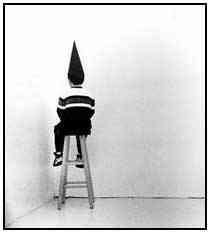 If you were to click
this link
right now, it probably wouldn't work. Why am I providing you with a dead link? Well, perusers of the internet have palpitated their quivering left-clicking fingers with such rapidity over the
Wikipedia Scanner
that the website has been, "Disabled until the onslaught of traffic wanes".
I'm telling you about this because, beside offering the amateur sleuth an opportunity to raise aloft the torch of transparency, Wikipedia Scanner's skilful deployment has led to a
conglomeration of shamed corporate employees
, including an
Electronic Arts staffer who would prefer public ignorance
about
Trip Hawkins
or
EA Spouse
.
I have nothing but contempt for these corporate representatives. Their actions are as despicable as they are futile. Wikipedia takes stock of earlier versions of each entry, placing the painless process of healing an ignoramus' incursion in contrast with the cruel and unusual punishments these poor human specimens will endure at the behest of their embarrassed employers.