Determinance
is
essential
swordplay. Mode 7 Games have captured the invariable nature of the dual;
Determinance
distills a mortal melee and morphs its properties into pure, heart pumping, gameplay.
How have Mode 7 Games achieved this? Through much careful consideration, I would imagine. The movements and angling of your sword, delicately, satisfyingly, bound to the motion and middle button of your mouse. Swordplay quickly becomes second nature, the emphasis of play quickly evolving to predicting and countering the strategy of your opponent. This game is designed for social play, over the net or ideally at a LAN party. In a way, this is my greatest criticism of
Determinance
, the singleplayer features are lacking to the point of their questionable purpose beyond tutorial functionality, as a precursor to the fresh, multiplayer, meat of the game.
The interface is uncluttered, attractive and functional, reminiscent of Introversion's work. Although the graphics are nothing to write home about, they provide a sturdy base upon which players may soar and delve into the possibilities of aerial and submarine exploration.
The audio, refreshingly unusual. The voice sampling used for the combatants has been recorded with a chuckleworthy degree of British cheekiness, perhaps a knowing nod to the curry-swilling marines of
Giants : Citisen Kabuto.
Trippy techno accompanies
Determinance
in its musical score. If you have ever generated a CD Key, you'll know the sort of tunes to expect.
It's not all roses in the tranquil garden, however.
Determinance
suffers from a major memory leak, and it's a leak that threatens to flood the flora with a rotten ooze. Often, even directly after a reboot, the game would play at a dismal, ruinous, framerate. My friend's PC flat out refused to run the game, loading a black screen then crashing directly back to Windows. Hopefully, being as it is that the copy I played was pre-release, these issues can all be addressed and resolved by Mode 7 Games before
Determinance
goes to retail. Paul Taylor of Mode 7 comments, "[W]e took [
Determinance
] to PC Gamer and it was absolutely rock solid for about 2 hours without a single bug or crash. Then Ian took it to a little LAN party and THE SAME CODE decided to screw itself up constantly. We're working on a solution right now though."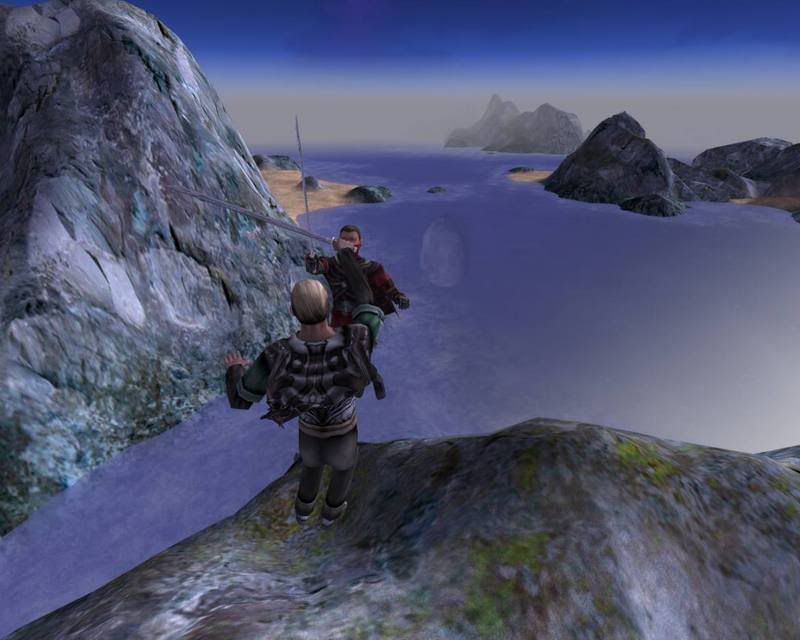 Paul Taylor will be talking about
Determinance
and the challenges he has faced as an indie developer, you can listen and learn from his words at the Interactive Gaming Festival in Nottingham on 27th October. More information
here
. You can keep up to date with the continuing development of
Determinance
at the Mode 7 Games website
here
.