Game Politics
reports
on the form next year's E3 will take, with wording directly from ESA head-honcho Doug Lowenstein's mouth.
To summarize, E3 2007 will run from July 11th-13th, operating from Santa Monica, California. It will feature "major press events" and "intimate meetings in premier hotel suites". Essentially, for the majority of gamers, E3 will be what it always has been - a time of year when journalists bombard us with exciting tales of future developments. The industry insiders will still be accommodated, on the basis of E3's new invitation-only policy, and it will be from this slimmer guest-list that we gamers are drip-fed delicious information.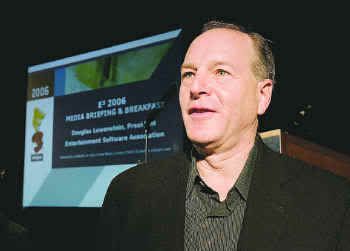 "The new E3 is first and foremost about getting business done. When we asked key audiences what they wanted in the new event, we heard that they wanted opportunities for high-level meetings in a business-like setting, to play games, network, and socialize, to see major company offerings while also preserving the sense of discovery that is so much a part of E3, and to hear substantive presentations on the most important issues and trends facing the industry"
- Doug Lowenstein